Request a Quote/ Order NuStair
NuStair Stair Tread Product Options:

Staircase Starting Steps:
Staircases can begin with open end treads, starting steps, or combinations of both. To determine whether a stair tread is left or right facing, stand at the bottom of the stairs and look up the staircase.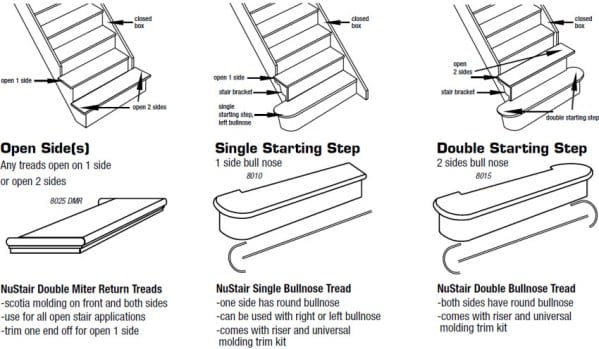 ---
NuStair Project Order Form
Please fill out the form below with as much information as possible. A NuStair® Stair Cover representative will contact you within 2 business days.
Tools I Need
(10oz Tube - Approximately 5oz per step)
Hardwood Species & Finishes
5/8" NuStair Box Tread 8025
3/8" NuStair Box Tread 8023
3/4" NuStair Riser 8075
3/4" NuStair Landing Tread 8591
*Landing tread manufactured with 3/4" thickness
NuStair Landing Kit
* One 3/4" thick landing tread with select or better 3/4" hardwood flooring, stained to match your treads
5/8" or 3/8" NuStair Single Open Stair Tread Solution 8025DMR & 8023DMR
I want to miter my own returns
*8581 Return Ends may be joined to box tread
NuStair Single Starting Step 8010
Stair Bracket 2028
*Covers exposed riser heads on the outside of stringers
Double Starting Step?
For double open stairs we are a custom milling operation and can provide complete custom solutions. This includes "pie shape" stairs. Custom lathe to match your existing balusters. We can make treads up to 16' long and 4' wide! Call or email Steve Mott for a custom quote at (717) 495-4132 or Steve@NuStair.com.
Comments, Questions & Special Instructions
Photo Upload
Optional: If you would like to include a photo of your stairs you may upload one here.
Save
Save