Frequently Asked Questions
How are NuStair Retreads Installed on one-side open stair cases?
We offer a 50″ tread in all species and all colors that has a mitered return on both ends. The installer simply cuts one end off. To cover the exposed riser cut we offer a plain bracket and or a scroll bracket. Brackets and replacement balusters, newels, and handrail can be found at www.idealstairparts.com and ordered anywhere you order NuStair. For a true double open staircase we can custom make the tread to length with both returns, call us.
What do I do when I get to a landing or to the second floor?
NuStair offers a 5 1/4″ wide X 3/4″ landing tread or stair nosing with the nosing and scotia molding attached. The 3/4″ thick landing tread will match up to your new flooring. The landing tread is priced by the foot and can be ordered from your dealer or distributor, unfinished or finished.
Do you offer a tool that does a superior job of making the NuStair retread cuts?

We do. It's called the "NuScribe" and acts like a slide rule can be positioned inside the two stringers. Once inside the stringers you lock down the arms, pull it off and position it on the retread, make your marks and your cuts.
Learn more about NuScribe here!
Can NuStair Stair Caps work on an open staircase?
Yes. We offer and heavily stock a 50″ double miter return tread in both 3/8″ and 5/8″ and in the Bruce colors: gunstock, natural, butterscotch and unfinished. For a one-side open staircase you simply cut one side off. For a double open staircase you need an accurate inside to inside miter measurement and these will be custom made.
How does NuStair meet code?
If the job does not include adding flooring to the floor at the bottom of the stairs or at the landing, you simply install the 3/8″s tread on the first step and the last step and 5/8″s on all the rest. If the job includes adding flooring (raising the height of the floor and landing) to both stories you simply add height as well and install the 5/8″s treads all the way.
Does NuStair offer a Warranty?
NuStair® proudly offers:
Lifetime Structural Warranty
10 Year Warranty on Wood
5 Year Warranty on Stain
Learn about our warranties on this page.
WARNING: When considering refacing yours stair and making a choice of providers, please consider: On 9 September 2007, NuStair® applied for U.S. Provisional Patent 61/231,774 Method of Refacing a Staircase. Attorneys Case No. 1-312-P. Upon issue, we intend on enforcing the same.
What colors and species of stair treads do you stock?
We stock a wide variety of colors and species including, but not limited to below. Please note: if you don't see what you need on the list above, we can order any type of species you need!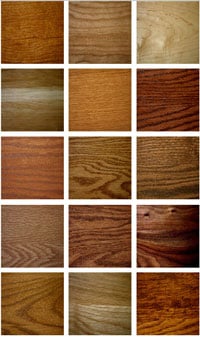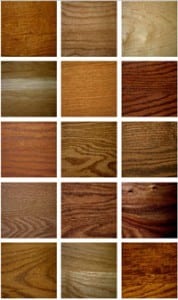 Stair Tread Species:
Red Oak
WhiteOak
Maple
Hickory
Walnut
Brazilian Cherry
American Cherry Natural
Stair Tread Finishes:
Unfinished
Natural
Butterscotch
Gunstock
Fawn
Saddle
Java
Golden
View all NuStair Stair Tread Colors
What lengths and retread depth of stair caps do you stock for immediate shipment?
We stock unfinished, gunstock, butterscotch and natural in red oak. Lengths are 36″, 42″, 48″, 60″, and 72″. The retread depth is 12″. The risers are stocked in red oak with the same colors and lengths and are 8.1/4″ in height. We stock Brazilian Cherry, Walnut, Hickory and American Cherry as well. Please call us for pricing on non-stocked colors and species.
What if the nose of the stair covers falls off?
The nosing and scotia nosing is permanently bonded to the tread and the bond is stronger than the wood itself and this has never happened.
What if the existing stringer is flush with the substrate nosing?
In some older homes, this can be the case and will require either some of the substrate nosing being trimmed back or adding molding to the top of the stringer. This scenario is rare.
Do you offer just the nosing and scotia, stair nosing with the nosing and scotia, starter step and starter treads?
Yes, please call us for pricing.
Can I order a special species or color of stair tread to match a flooring job?
Yes, please call the office for a quote.
Is the NuStair retread product an import?
No, it is Amish-made in Pennsylvania
Still, have questions? Contact us or call us at 717.495.4132. We are available for tech support or regional store manager meetings and shows.