Adjustable Balusters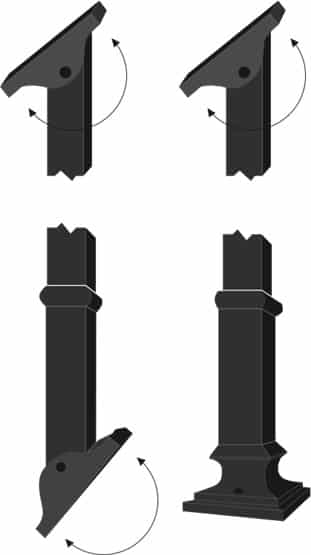 Adjustable Staircase Balusters for the NuStair System
You want the beauty and streamlined appearance that comes with iron or wooden balusters, but don't want the hassle of measuring, cutting, and installing them yourself.
That's where NuStair's adjustable staircase balusters come in!
You get the look you want without the headache of trying to trim down a too-long wooden baluster or find the right length of iron.
Our revolutionary adjustable balusters come in one piece and are adjustable to your staircase's needs, quickly and easily.
NuStair Adjustable Balusters Feature:
Fast, easy remodeling

Available in both iron and wood

Iron offers fixed or angled hardware

Wood provides an adjustable top block

One size, just trim to fit
Adjustable Baluster Gallery
How to Install NuStair Adjustable Balusters
Tools needed: Pencil, tape measure, hacksaw, power drill, allen wrench
Remove your old balusters, carefully removing any nails or debris left behind.

Position the baluster and mark the top and bottom.

Mark .5" below the top mark for a cut line, and 1.5" above the bottom mark for a cut line.

Secure and cut the baluster with a hacksaw.

Position top hardware and install screws.

Attach bottom and insert into top hardware.

Position bottom hardware and install with screws.

Tighten set screw with allen wrench.

Continue installation, repeating steps 2 through 8, until all balusters are installed.
Note:
You may need to pre-drill the handrail and stairs before installing balusters.

For stairs with an angled base, use 2 adjustable pieces of hardware.
Order NuStair Adjustable Balusters Today!
Are you ready to get your staircase remodeling project started? Order your adjustable balusters today!
Save
Save