Stair Tread Specifications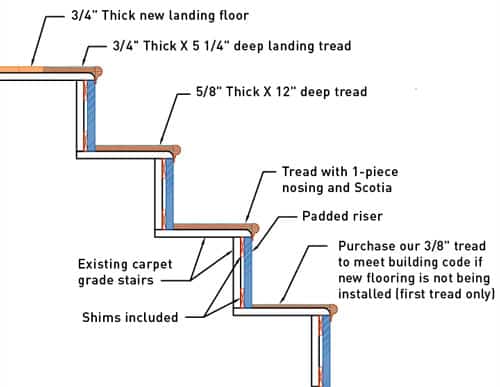 When you select NuStair for your staircase refinishing project, you get to select from a range of wood species and finishes for your stair treads. This allows you to create the look you want in your home or business, giving you the perfect DIY or professionally installed project.
Our patented one-piece nosing and scotia molding allows quick and easy installation with a professional, polished architectural finish.
We stock our prefinished stair treads in a variety of species and finishes:
NuStair prefinished stair treads and risers are stocked in:
Stair Tread Species:
Red Oak
White Oak
Maple
Hickory
Walnut
Brazilian Cherry
American Cherry Natural
Stair Tread Finishes:
Unfinished
Natural
Butterscotch
Gunstock
Fawn
Saddle
Java
Golden
View Stair Tread Colors & Species >>
At NuStair, we stock our treads and risers from 36"-72" in 6" increments: 36", 42", 48", 60", and 72". Our white risers also are available in lengths from 36"-72".
For one-side open staircases, we stock a 50" double mitered tread. Simply cut one side off to the length you need before installing.
If you don't see what you need in our online catalog, we can order you anything you need. For a true double miter tread, special colors, or wood species, email us or call (717) 495-4132.