NuStair: Stair Parts
Our parent company, Ideal Stair Parts, stocks a complete balustrade line of over 8,000 stair part sku's including staircase railings, landings, stair treads, fittings and more. Browse their complete inventory below to complete your NuStair staircase remodel down to the last detail. To order stair parts, please contact Ideal Stair Parts at 888-823-1124 or visit them online at www.idealstairparts.com.
Stair Parts for All Designs:
Stair Parts Guide
Our Nustair stair parts guide will help you navigate your staircase remodel ordering, and decision making regarding stair parts, hand rails, and stair treads. Whether you need to fix damaged stairs, refinish carpeted or reface wood stairs, Nustair has the pieces that you will need for a full do-it-yourself remodel. We believe in providing the highest quality products to our customers, which is why we offer a Lifetime Structural Warranty for Nustair tread and stair parts.
If you are unsure of how to proceed with your stair remodel or refinishing after you have found the parts you require, read our stair cap installation page where we go through the step-by-step installation process with videos.
Traditional

Applications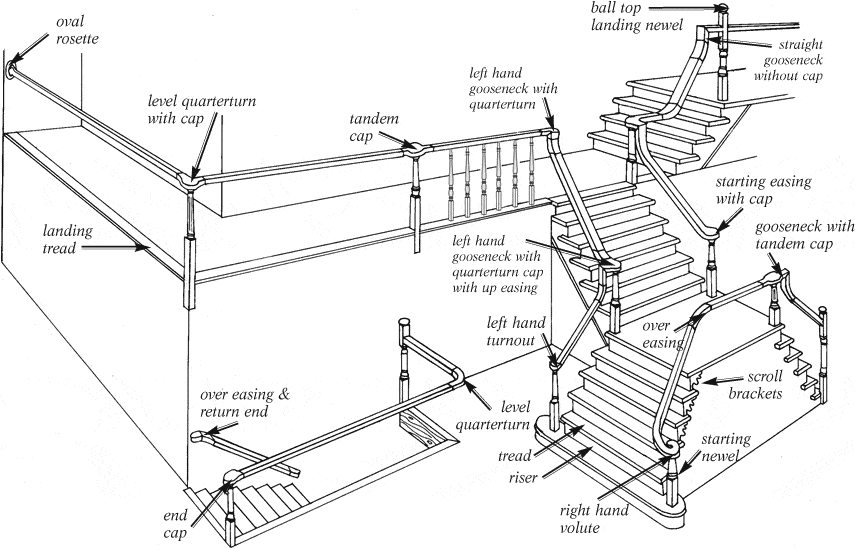 Recommended Baluster Lengths for Various Rake Handrail Heights
30″ Handrail Height

34″ Handrail Height

36″ Handrail Height

div>
Based on a rise of 7½" and a run of 10″