Stair Parts
You need the right parts to get your stairs looking great.
Our parent company, Ideal Stair Parts, stocks a complete line of over 8,000 stair part SKUs, including staircase railings, landings, stair treads, fittings, and more. Mix and match from different lines to create your custom staircase look, or choose all your parts from one product line for a uniform look.
Browse Ideal's entire inventory here:
When you're ready to order, contact Ideal Stair Parts at (888) 823-1124 or visit www.idealstairparts.com.
Stair Parts Guide
Our NuStair stair parts guide helps you navigate the process of ordering the parts necessary to remodel your staircase.
Whether you need to fix damaged stairs, refinish carpeted stairs, or reface wooden stairs, NuStair has the pieces needed for a full do-it-yourself project.
We firmly believe in providing the highest-quality products to our customers, so we offer a Lifetime Structural Warranty for all NuStair tread and stair parts.
Not sure how to complete your project? Our Stair Cap Installation page walks you through the process with videos.
Traditional Applications
Traditional

Applications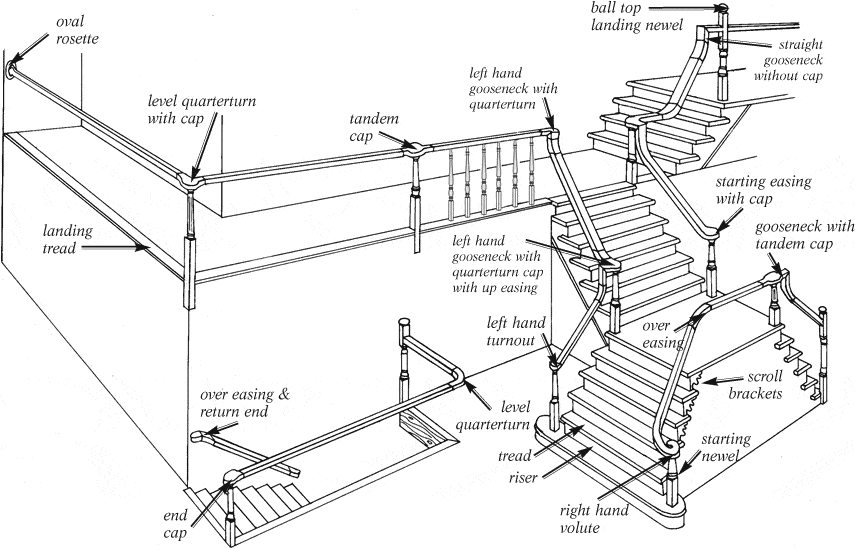 Recommended Baluster Lengths for Various Rake Handrail Heights
30″ Handrail Height

34″ Handrail Height

36″ Handrail Height

div>
Based on a rise of 7½" and a run of 10″