NuStair: The History of NuStair Stair Treads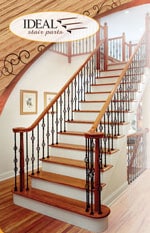 https://www.idealstairparts.com/
NuStair is Amish American made in Pennsylvania using select or better American hardwoods by The Ideal Stair Parts Company.
Ideal has been in business for over 20 years as one the the largest Stair Parts Companies in the U.S. and Canada with over 8000 sku's in stock.
Ideal's mission is to combine their high quality manufacturing expertise along with our state-of-the-art distribution centers to provide you, the customer, with the best source of stair parts in the marketplace.
NuStair originated the retread stairs process! We'd love to talk to you and tell you how easy and affordable our quality stair cap system is! Contact us today to find out what NuStair can do for you!