NuScribe Stair Remodeling Tool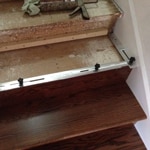 Get Precise Measurements for Every Tread, Every Time
One of the most difficult and frustrating parts of taking on your own staircase remodel is making sure your measurements are correct.
Just one slip of the measuring tape, or one incorrectly written number, and you've got a big problem on your hands.
That's where NuScribe comes in!
This tool, developed by NuStair specifically for our products, helps you expedite and perfect the stair remodeling process. It acts as a slide rule that can be positioned inside two stringers, giving you the correct measurements of your stair without remembering numbers.
Once you lock down the arms and pull the NuScribe off the stair, your exact measurements are preserved. Simply position the NuScribe on your new tread, mark the measurements, and cut your tread for a perfect fit.
<Learn more about how NuScribe works on our blog: 3 Reasons the NuScribe Will Be Your Best Friend>

Ready to make your DIY stair remodel easier and more accurate? Indicate you'd like to purchase a NuScribe on your Request a Quote form, or contact us at info@nustair.com or (717) 495-4132.
NuScribe Product Gallery