6 Small Changes to Make Your Entry More Inviting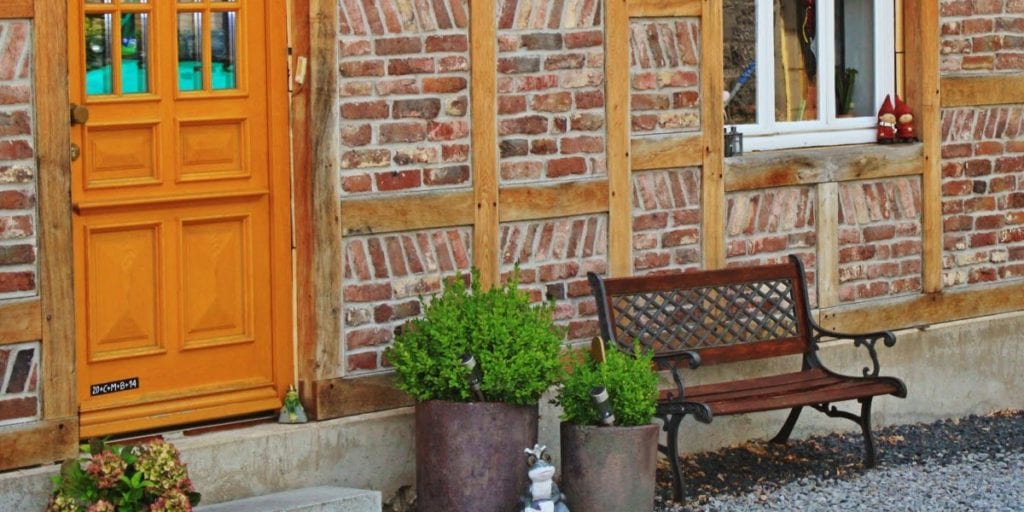 Your home's entry is one of the first things guests see when they walk into your house.
Instead of a disorganized jumble of shoes and coats, try these 6 small changes to make your entry more inviting for everyone:
Add a Mirror
Mirrors help open up and bring light to small spaces such as entryways.
If you have the wall space, add a large mirror to give guests the feeling that your entry is larger than it is.
For smaller areas, a mirror with a bold frame, or even a collection of mirrors can do just as great a job of creating openness and light.
Whatever you choose to add, make sure to give the mirror a good polish before you expect guests!
Give Guests a Place to Sit
No one wants to tip over trying to take their shoes off at your front door.
Add a bench where guests – and your family – can have a seat and take off their shoes or set down their bags as soon as they come in the door.
If you have a smaller space, a single chair will do just fine.
Adding some patterned pillows creates a warm, inviting feel that makes people want to sit down.
And don't be afraid to go bold with your color choice on this seating. You want it to stand out!
Incorporate the Outdoors
Bringing the outdoors inside is a great way of welcoming your guests to your home.
If you have the space for it, add a tall, thin tree to a corner of the entry for a little surprise.
For smaller spaces, a succulent, small potted plant, or even a vase of flowers will do.
If you have a green thumb, make it a fake plant. There are lots of high-quality silk plants on the market today, and your guests will never know they're not real.
Wrangle the Mess
No one likes to walk into a home – your own or someone else's – to a giant mess.
Move whatever doesn't absolutely need to be in the entry out so there's less stuff to keep track of. For everything else, create a system of organization that's easy to maintain on a regular basis.
Whenever possible, use storage benches and cabinets so you can stash items out of sight, especially when you're expecting guests.
A Splash of Color
A little bit of color can go a long way, especially in a smaller space such as an entryway.
Putting a bright plant, a patterned pillow, or a fun piece of artwork in your space, especially if you've got neutral walls, draws the eye.
For larger spaces, you can get away with painting the walls a bolder hue to create separation of the spaces.
Add a Cozy Rug
What's better than walking into someone's home and sinking your feet into a nice, squishy rug?
As long as you have a shoe mat – and a no-shoes policy indoors – tossing down a cozy rug can be a nice touch.
DIY Staircase Remodeling System
Why not make your stairs as gorgeous as your newly freshened-up entryway? With the NuStair system, you can get gorgeous new hardwood stairs with less mess, less cost, and less work than replacing. Learn more!