What Your Front Door Color Says About You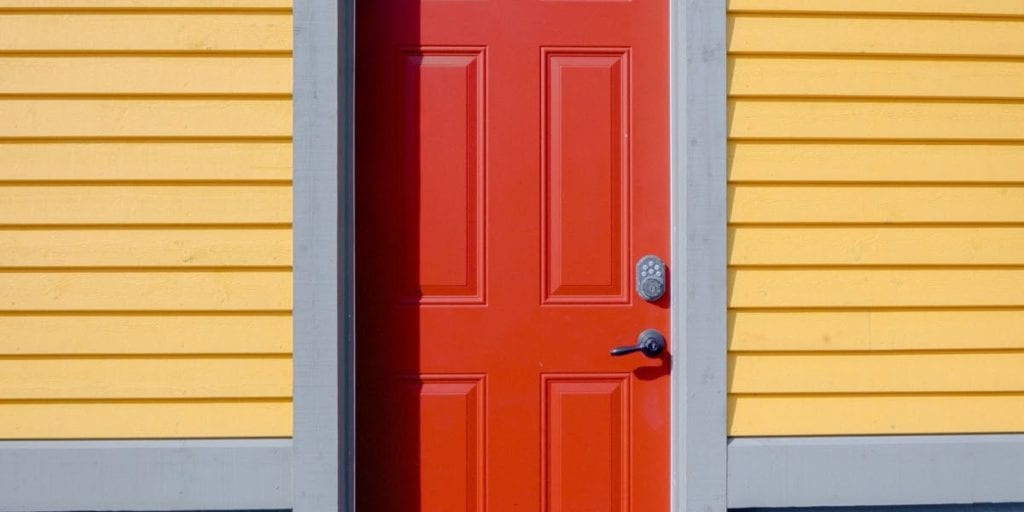 Have you ever walked through a neighborhood and noticed a specific door?
The color stands out and a picture of the type of person who lives there pops into your head. Maybe the homeowner is outgoing, or perhaps they keep to themselves. Does the house seem inviting? Does it seem as if you could relax there?
Your front door is the first thing your guests see, and gives them their first impression. Make sure it's the right one with this color guide.
Here is what your front door color could be saying about you:
White
A white door gives off a classic and clean vibe. You may be a minimalist, eager to make your home a peaceful place. What little you do own is very organized and uncluttered. And probably labeled.
Black
Black is a bold choice, but very modern. It is a color generally associated with safety and protection. You may choose a black door if you like to be in charge and are serious, keeping an air of mystery about you.
Red
Red has been used for a long time as a welcoming and hospitable door color choice. It is traditional, but vibrant. You likely prioritize comfort for you and your guests and an open door policy. All are welcome!
Green
Those who have a green door likely have a green thumb. You might like to surround yourself with plants and other decor inspired by nature. Your garden allows you to be somewhat self-sustaining, and reduces your carbon footprint.
The color of money, green also represents an ambitious, hard worker who values financial stability.
Blue
Blue is a very grounding color. Guests coming up to a blue door will instantly feel calm and at peace. A home with a blue door is a great place to just "be" and enjoy pleasant company and conversation.
Gray
Right between black and white, gray represents indecisiveness. Someone with a gray door may be a people-pleaser, always finding the compromise so as not to rock the boat. A highly intelligent and intuitive host, it is easy and enjoyable to talk with you.
Orange
Orange is a unique choice. Vibrant and warm, it is the color we most associate with the fall season – the season of gathering with family and friends over good food, creating memories.
You are a social butterfly! You instantly like all that you meet and are quick to welcome them into your home. Definitely an extrovert.
Yellow
If you have a yellow door, your disposition is just as sunny as the color itself. You are outgoing and a serial optimist. Nothing gets you down!
You are energetic and it is contagious. You are a morning person, no coffee necessary.
Pink
A pink door belongs to the hopeless romantic. You love love, and you want to shout it from the rooftops or, in this case, your door.
You are very thoughtful and always know the perfect gift to make someone feel known and loved. You are generous in your giving. Your cheeriness is both uplifting and nauseating, but in a good way.
Purple
Purple is often associated with both royalty and spirituality. You are a risk-taker and a free spirit. No one can tell you what you can and can't do!
You are well-rounded in your knowledge of other cultures and probably take traditions from many to create your own unique lifestyle.
Natural
An unpainted wooden door is down to earth. Very welcoming and cozy, your guests feel like they can slip off their shoes after a long day and relax.
A wooden door is a traditional choice. No fuss, just like you.
Ready for a change? Learn How To Paint Your Front Door here!>
Update Your Stairs with NuStair!
Now that you have painted your front door, make sure the view inside is just as beautiful!
An easy way to spruce up the look of your entry is by updating old, faded, possibly carpeted stairs. NuStair is the original, do-it-yourself stair overlay system that led the way for the stair retread process.
NuStair is Amish-American made, using wood from American trees. We insist on only the best in quality and confidently offer a lifetime structural warranty on wood.
Not into doing it yourself? Chances are we can recommend a professional in your area! Contact us today for a supply quote!