6 IKEA Hacks for a Functional & Beautiful Entryway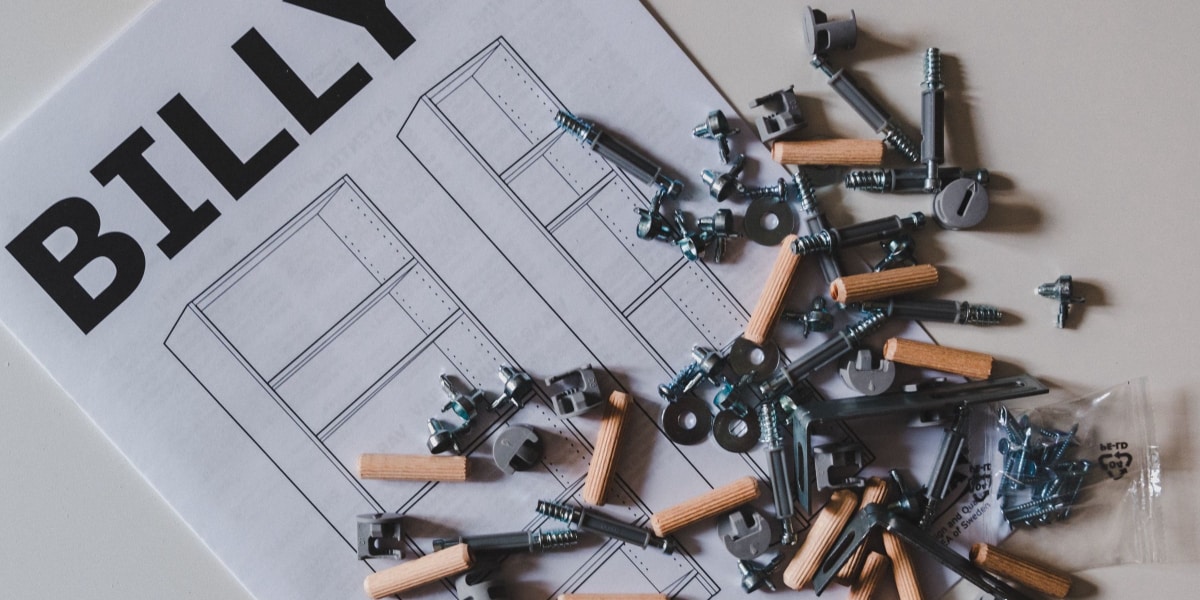 The entryway can be a difficult area to keep tidy. With people constantly coming in and out of the house, tossing their shoes, coats, and keys wherever, clutter is guaranteed to pile up.
This is especially true if you have a small entryway, or no real entryway at all. But the good news is that there are plenty of storage solutions with affordable prices available at IKEA.
With a little bit of creativity, you can turn your entryway into a beautiful and functional space. Follow these 6 IKEA hacks to learn how:
DIY Mail Holders
Keep your mail organized and out of the way with dedicated holders hanging from the wall.
There are a few IKEA options that can double as mail holders. Consider the brass napkin holder TILLSTÄLLNING for a bit of glamor, or the BEKVÄM spice rack for a more modern look.
Best of all, these lightweight options can often be installed without any screws or nails. Perfect for apartments, or people without a collection of tools.
Bookshelf Turned Coat Closet
If you do not have a closet near your entryway, you probably wish you did. Coat racks can be too bulky for small spaces, and don't do much to hide the clutter.
Solve this problem by repurposing an IKEA bookshelf! Find a slim one that will fit in your space and remove a couple of shelves. Next, install hooks on the sides for coats, scarfs, and umbrellas.
You can even place a small bin at the bottom for discreet shoe storage. Or, place multiple bookshelves side by side to create lockers for each family member!
Hang a Mirror
Mirrors are the perfect neutral decor that can match any style of interior design. They can also serve to make a space appear larger and more open, especially when they reflect natural lighting.
Not only are they decorative, but a mirror placed in the entryway is also functional, allowing you to catch one last glance at yourself before you head out the door.
We recommend LINDBYN or NISSEDAL mirrors from IKEA for the most affordable and versatile options.
<Learn more about Small Changes That Will Make Your Entryway More Inviting>
Bench With Storage
A bench with built-in storage options is the perfect example of how functionality can be beautiful. Provide a sitting area for people to take off their shoes, and a discreet place for those shoes to go away.
Try taking an IKEA bookshelf and turning it on its side. Next, install cushions on top, and if you want, a backrest. Voila, you have a bench!
While this IKEA hack takes a little more DIY energy to complete, it gives you the freedom to choose the perfect size and fabric for your bench. Plus, it is more affordable than buying a bench from any other store.
Slim Shoe Storage
Finding a storage solution for all the shoes in the family can be tricky, especially if you do not have a lot of space to work with.
Luckily, IKEA has many slim storage options that can be installed on the walls of your entryway. Consider the best-selling TRONES shoe cabinet, or the multipurpose IVAR cabinets.
These cabinets are designed to take up as little space as possible while still providing a surprising amount of storage space. They can also be mixed and matched with similar products to build your own stand-alone closet!
Built-in Coat Hooks
Closets and coat racks do not always fit in all entryways. In these cases, homeowners will have to turn to a wall hanging option. With IKEA, these wall hooks can be both functional and attractive!
Take, for example, the TJUSIG coat hanger, a slick piece that resembles the branching of a tree. Another, more playful, option is the dog-shaped BÄSTIS hooks.
DIY Staircase Renovation System
Finally, one of the best ways to breathe new life into your entryway is to renovate your staircase! With the NuStair Retreading System, this process has never been easier.
Replace your old, outdated steps in just one day! DIY your staircase renovation, or find a local expert installer to do it for you. Call NuStair today to learn more!