Installing an Open-Sided Staircase with Adjustable Wood Balusters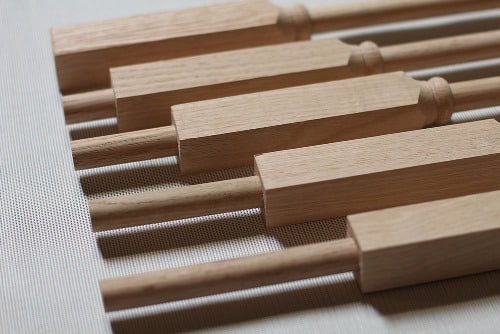 NuStair Stair Caps are easy to install and great looking. They come with pre-finished stair treads and stair risers, along with one-piece nosing and scotia mold construction that can reduce labor time by 50-70%! Follow these simple instructions on how to install your open sided staircase with adjustable wood balusters.
Remove carpet from stairs, if you have any.
Cut tread ends flush to outside wall.
The tread is the flat, top part of each step. You want the tread end to be flush with the wall on the outside of your stairs so that the tread is not sticking out.
3. Remove existing newel post
Once you've cut the tread ends correctly, remove the existing newel post at the bottom of your stair case. This is a structural, vertical post that is used at the top and bottom of a staircase.
4. Apply shims and first riser. Riser should be flush with existing tread nosing.
Shims are pieces of wood that make sure the old riser and new riser is flush with existing nosing. The nosing is the part of the tread that overlaps the riser on the front part of the step. You want the first riser to come in at a perfect 90-degree angle and there to be no nosing from the first step.
5. Nail along top of riser where next tread will cover. Apply minimal nails along bottom.
6. Apply non-water-based adhesive to existing tread and install first NuStair tread.
The first NuStair tread will now hang over the riser (creating a nosing) that you just made flush to the old tread. This is how it should look!
7. Nail along back edge so that next riser covers nail holes.
8. Install new newel post and attach to handrail.
9. You can now remove current balusters.
10. Install second riser and NuStair tread.
Again, use shims to make sure the second riser is flush with the old tread, and then install the NuStair tread so that it creates a nosing with some overhang.
11. Continue until all treads are installed.
12. Install stair brackets to cover gaps between new and old risers.
This will enhance the appearance of your new stairs. No ugly gaps and exposed shims!
13. Mark and drill bottom holes for new adjustable balusters.
Measure out the holes so it will be easy to install your new balusters and the railing in a straight line.
14. Measure and mark top of adjustable balusters for cutting.
You will have to cut the top of the wood balusters so they fit correctly between the stairs and railing.
15. Slide adjustable sleeve up to bottom of handrail and nail into place.
Once the baluster is properly trimmed, you'll be able to slide the adjustable sleeve of the baluster up to the handrail and secure with nails.
16. Install remaining balusters until complete.
Easy, Affordable Stair Refinishing System
Have any issues? Contact Steve Mott at (717) 495-4132 or at Steve@NuStair.com. Steve and all of the other professionals are here to help make your installation easy and stress-free!