How To Save Money Remodeling Your Stairs: The Affordable Carpet to Hardwood Staircase Makeover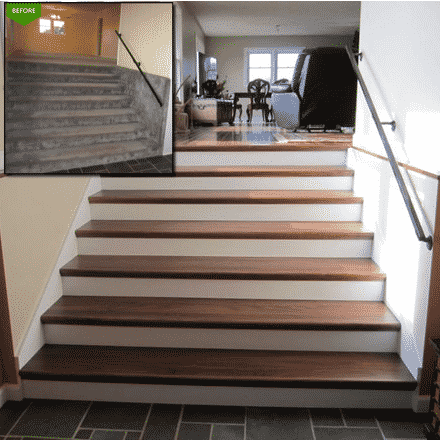 NuStair was designed as an altogether better method for replacing a staircase, and it is – including the price point! Although devising a less expensive stair replacement system was not our primary goal, it has been one of the most popular aspects of our product. So how is this American-made, lifetime structural warrantied, select or better grade product LESS expensive than the competition? Two big reasons:
Two Reasons NuStair Is The Most Affordable Hardwood Staircase Replacement System:
We Eliminate the Material Costs of Replacing or Altering the Existing Substrate or Staircase
Traditional staircase replacement involves pulling up the carpet, padding, tack strips, treads, risers and stringers/center supports. This is all thrown away, usually incurring additional disposal fees. Then, using new lumber, each element of the new substrate is re-fabricate and installed. Only now, is it ready for the new treads. This whole process involves substantial material costs, in addition to the actual cost of the tread. (Not to mention, you don't have access to your 2nd floor until the project is done.)
The equally distasteful alternative to the above lengthy process is a shortcut method. This involves sawing off the nosing of each tread, sanding it smooth, and then adding the new treads on top of them. While this is a bit faster and involves less cost in materials, it is very labor intensive. Because the new treads will them be installed on top of the existing ones, your staircase height will be incorrect and not meet standard building codes. (Not to mention your home would be covered in sawdust!)
Cut all the substrate or
framing noses off.
Cut, clean, and refill
all the mortise holes.
Then you're left with all the
sawdust to clean up!
The NuStair Way:Assuming your staircase is structurally sound, there is absolutely no need to rebuild the whole foundation of the stairs OR fill your home with sawdust! NuStair is specifically designed to be installed right over your existing treads while meeting all standard building code specifications. This means we have eliminated the cost of the entire substrate and eliminated the labor cost of removing or altering the current stairs. ALL of the money you do spend on your new stairs will go to purchasing the perfect treads and risers for your space!

We Eliminate the Labor Costs of Hiring an Installer – It's a DIY Stair Replacement System

Typical staircase replacement requires the skill and experience of a trained flooring professional. In fact many stair tread manufacturers require professional installation as a condition of the warranty. This means you will be hiring and paying for a professional's time anywhere from 3 days to 2 weeks.

The NuStair Way: No need to hire a professional, the NuStair system is designed for DIYers. We created the system with the homeowner in mind. Because it requires no changes to the structure of the staircase, the whole process is very straightforward and can be completed with basic power tools and handy-man skills. (Watch our detailed installation video that guides you through the entire process.) Plus NuStair doesn't stop at the stair treads. We offer an array of DIY friendly stair part accessories such as newel posts, adjustable balusters, and handrails if needed. (Many jobs are simple and don't require these, but plenty do!) Check out this time-lapse video a DIYer recently took of himself remodeling his basement stairs.

Of course if you prefer, we also have a broad network of NuStair PROs who can perform the installation for you. These are flooring professionals who love NuStair almost as much as we do and have extensive experience installing it. You will still save a bundle because our installers know the product inside and out and can usually complete an installation in less than ONE day! If you would like a quote, we would be happy to connect you with a PRO in your area. Just check the box that says "I need a NuStair installer in my area" in your quote request.

Save Time, Save Hassle, Save Trees, AND SAVE MONEY. Request a NuStair quote for your staircase today and begin your carpet to hardwood transformation!

Save

Save

Tags: budget friendly, diy, do-it-yourself, saving money, staircase remodel