How to Finish Basement Stairs with NuStair
NuStair is perfect for finishing basement stairs. The low cost, and quick turn around of the NuStair stair remodeling system makes NuStair ideal for finishing basement stairs! Finished basements add value to your home while you live there and increase the value of your home when you sell! Using NuStair to finish your basement stairs is quick and cost effective, without sacrificing on looks or quality.
Here's what one of our satisfied customers sent NuSTair, along with a photo of her finished basement stairs: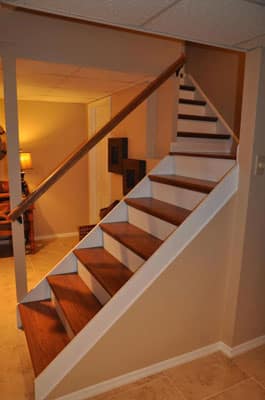 "I had my basement stairs done with NuStair. Very happy! [We hired] a professional installer. It took them one day AND they threw in two free handrails! They were friendly, courteous, reliable & very reasonable. Hard to find that type of company nowadays. They work in Philadelphia & New Jersey. Highly Recommend!"
– Pamela O.
Find out how affordable and quick finishing basement stairs with NuStair can be. Just measure and count your basement stairs, select the color and finish of your stair treads and then request a stair tread quote!
 
If you want to install your American made, hardwood stair treads yourself, make sure you watch our stair tread installation video . This will walk you through the NuStair remodel process from biginning to end, along with helpful tips to make your remodel even faster and easier.
 
Not a do it yourselfer? NuStair may still be the best solution for finishing your basement stairs. Eliminate the sawdust and the hassle of having construction working spending weeks coming in and out of your house and do waht Pamela did. Just contact us and we can put you in touch with a professional NuStair Stair Tread installer in your area to finish your basement stairs for you!
 
We don't want to just sell you new stair treads, we want to be there for you every step of your project. Call us for technical support during your NuStair remodel, and share your NuStair finished basement stair photos and success stories on the NuStair Facebook page!
 
Thank you for considering NuStair for your basement stair refinishing project!